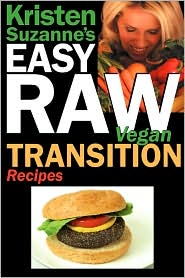 Face it, you need as much raw support as you can get. Every blog, recipe book, friend (online or offline), natural foods store…these are all amazing resources to not only keep you going, but to keep you going further.
There is a new raw food chef on the scene. Her name is Kristen Suzanne and she was recently featured on We Like it Raw.
We will let Kristen talk about herself using her bio on her website:
Kristen Suzanne is a former competitive bodybuilder and Associate Chef and Instructor in Raw Gourmet Foods, certified by the world-famous Living Light Culinary Arts Institute in Fort Bragg, California.
Kristen is based in Scottsdale, Arizona, but don't let that stop you. For people that don't live in Scottsdale, she has developed a series of "Easy Raw" recipe ebooks. And being big fans of "easy and raw" here, we couldn't pass up an opportunity to promote another raw-and-easy-kindred spirit.
Kristen gave us a copy of her "Easy Raw Sides & Snacks" ebook for review.
In each of her ebooks, she gives a great introduction on raw foods for those who are new to this way of eating, or who need that occasional refresher. Also included are many of her favorite tips for new (and perhaps even us seasoned) raw foodists, from dehydrating
 to kitchen equipment tips.
Although many of the recipes in her ebook are simple and easy, some of them do include quite a few ingredients that may overwhelm the beginning uncook. Some familiarity with uncooking may be necessary to get started with some of these recipes.
Personally, we are both very fond of recipes that are of the "I've-gotta-get-out-of-the-house, what-the-hell-am-I-going-to-eat?" variety. Less is always better, in our opinion.
Overall, these books are an excellent addition to anyones raw book and ebook repertoire. We should all be expanding our raw food horizons whenever possible, as a growing movement and as individuals, it is up to us to show the world how insanely nutritious and delicious raw food can be.
Bonus!
Kristen was kind enough to give us permission to post one full recipe from her ebook. We chose her Tuscan Sun-Dried Tomato
 Pesto
. We absolutely love pesto recipes and found this recipe especially tasty. Great for keeping in the fridge for a week to snack on when you need something quick to grab.
Tuscan Sun-Dried Tomato Pesto
Yields 4 servings
1 cup sun-dried tomatoes, soaked 2 hours in enough water just to cover, reserve soak water
1/2 cup fresh basil, packed
1/4 cup pine nuts
1 teaspoon garlic, pressed
1 teaspoon Himalayan crystal salt
2 tablespoons fresh lemon juice
1/3 cup extra virgin olive oil
In a food processor, fitted with the "S" blade, combine all of the ingredients except the olive oil, adding a little of the sun-dried tomato "soak" water, if necessary. While the mixture is pureeing, add the olive oil.